Nobody likes being hungry, the same is true for our cats. Fortunately, automated cat feeders can help to ensure your cat is always fed on time, with the correct portion size for their diet, whether you are at home or not.
In this guide, we explore the different options available to you, what you should consider, and review the automatic cat feeders on the market.
Best Automatic Cat Feeders in the UK
We've compiled the top rated automatic cat feeders from this guide for easy viewing. You can view a full breakdown of our automated feeder reviews further down this guide.
Best Automatic Cat Feeder
PETLIBRO Automatic Cat Feeder
Our favourite automatic cat feeder of the lot, with outstanding value for money. A great quality product with a large 4 litre capacity that is extremely easy to use and packed with features. Easily schedule up to 4 meals per day, and add a recorded message to call your cat to the bowl each time it dispenses. You can view our pictures and video of it in use further down this guide.
Rating: 5/5
Cat Mate C500 Automatic Pet Feeder with Digital Timer
The Cat Mate C500 is one of the simpler automatic feeders we reviewed but is the best choice if your cat will only eat wet food. You can add a different meal type to the 5 different compartments which makes it a great 2 day automatic feeder option.
Rating: 4.5/5
Check Price
What to consider when buying an automatic cat feeder
Buying an automatic cat feeder should be relatively simple, but before you jump into the purchase you should consider the following:
How long will your cat be unattended?
How much food will the feeder need to store?
How much food does your cat typically eat in each serving?
Does your cat eat wet or dry cat food? If dry, what is the size of the food?
Does your cat feel confident eating alone in the house? Would you make use of a voice recording to call your cat for its tea?
Are you able to plug your feeder into the mains near to where you want to position it in your home?
Answering the questions above should help you to pick an automatic cat feeder that is a great fit for your feline friend.
Criteria used in our automatic cat feeder reviews
As owners of an automated cat feeder we've been through the process of researching the best options out there. To provide you with the most useful information we have focused our reviews on the following criteria.
What is the capacity of the feeder? Is it able to keep the food fresh for a long period of time?
How easy is feeder to clean? Is it dishwasher proof?
What is the quality of the feeder? Is it well built to keep cats out from breaking into the food?
What additional features are included that will give you added peace of mind whilst away from home?
Is the feeder good value for money?
Automatic Cat Feeder Reviews
Check out our top automated cat feeders that are available in the UK, including some of the best smart, voice recording and diet control options on the market. We have included all major feeder brands in our reviews including Roffie, PetSafe and Cat Mate. Our automatic feeder reviews are ordered by overall rating from highest to lowest.
1. PETLIBRO Automatic Cat Feeder
PETLIBRO Automatic Cat Feeder
Our Rating: 5/5
Summary:
We love the PETLIBRO automatic cat feeder – the product is great and offers amazing value for money! If I could rate the quality of this feeder higher than 5 stars, I would. It's built well, and has a 4 litre capacity meaning our cats are always well fed. The PETLIBRO feeder unboxing reminded me of unboxing an iPhone with simple and easy instructions and perfect design. We have recorded a message so our cats come running at meal time, and it leaves us piece of mind that they won't forget us when we return! The dispenser itself is incredibly smooth compared to its competitors, and it works perfectly with our highest rated dry cat food from Purina.
Key Features:
4 litre capacity
Each meal can be controlled use up to 10 portions of food (1 portion is 12.5ml / 2 1/2 tsp)
Ability to schedule 4 meals per day at times of your choice
You can add a recorded message to be played at each meal time to call your cat
Powered using mains power with a battery backup in case of power cut
Suitably for dry food only (0.07-0.4 inches in diameter)
The food bowl is removable making it easy to clean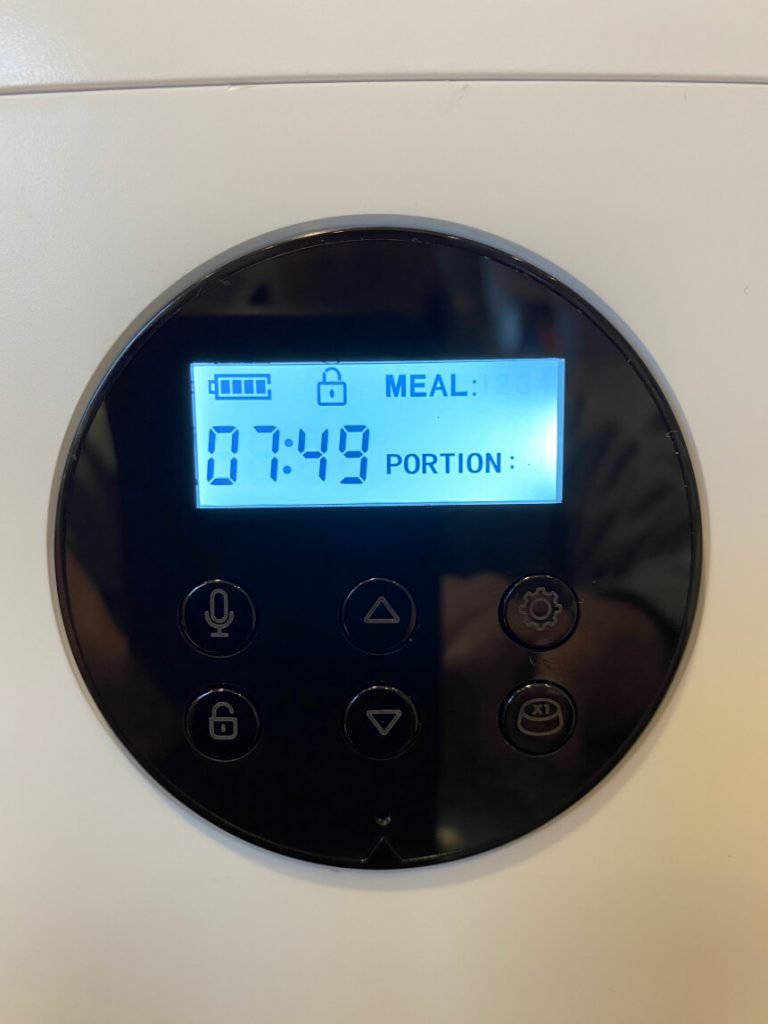 2. Skymee 12L Smart Automatic Pet Feeder with HD Camera & 2 Way Audio
Skymee 12L Smart Automatic Pet Feeder with HD Camera & 2 Way Audio
Our Rating: 5/5
Check Price
Summary:
The most advanced automatic cat food dispenser out there! The Skymee smart feeder connects seamlessly to your phone (iPhone or Android) allowing you to feed, see and talk to your cat when you're not home. The huge capacity (the biggest we could find) will hold enough dry food to feed your cat for up to a month (depending on meal size). This feeder has the added piece of mind allowing you to check in on your app to see your cat, and talk to it using the two way audio. It comes at a cost, but this is a very clever and reliable auto feeder!
Key Features:
Huge 12L capacity
Includes a IR night vision motion detection 1080p camera to check in on your cat when its eating
Up to 8 meals per day, 24 hour clock schedule & choose between 1-30 portions for each meal
Dual power supply (mains and battery 1xD cell)
2 way audio & microphone allowing you to talk to your cat from anywhere
Compatible with dry food up to 15mm diameter
Connects seamlessly to your phone and wifi
3. Cat Mate C500 Automatic Pet Feeder with Digital Timer
Cat Mate C500 Automatic Pet Feeder with Digital Timer
Our Rating: 4.5/5
Check Price
Summary:
The Cat Mate C500 will serve meals at your pet's normal meal times when you are away – during the day, evening or over the weekend. Suitable for feeding both wet and dry foods, the twin ice packs and close fitting lid help keep food fresh. Simply program the easy to use digital timer to the required meal times. Once set, all programmed feeds are visible on the LCD display. We felt this feeder offered great value for money with reliability that didn't break the bank if you only need a 2 day cat feeder.
Key Features:
Holds up to 5 meals for your cat (up to 330g each)
Has twin ice packs to help keep food fresh
Removable cover and bowl for cleaning (dishwasher safe)
Suitable for dry and wet food
Easy to set timer to schedule meals for your cat
Requires 3xAA batteries
4. PetSafe Smart Feed Automatic Cat Feeder
PetSafe Smart Feed Automatic Cat Feeder
Our Rating: 4/5
Check Price
Summary:
PetSafe have taken automatic cat feeders to the next level with this smart option linking to an app on your phone. The large capacity is great if you are away for long periods of time, and the app adds that extra piece of mind. Once you have downloaded the app and connected the feeder to your wifi, you can easily setup the schedule for your cats meal times, and adapt them as needed. The option to feed your cat slowly makes this a great option for cats that eat too quickly. Most of the feeder is removable and dishwasher safe, making it easy to clean when you return.
Key Features:
24 cup capacity (5,678ml)
Get alerts on your phone when the feeder is low (or out of) food
Get notified when your cat has been fed
Select the 'feed now' option on your app to feed your cat outside normal feed times
Set up to 12 meal times per day
Flexible meal sizes from 29ml to 946ml each
Use the 'dispense slowly' option to spread each meal out over 15 minutes
5. Puppy Kitty 6.5L Automatic Pet Feeder for Cats
Puppy Kitty 6.5L Automatic Pet Feeder for Cats
Our Rating: 4/5
Summary:
The Puppy Kitty automatic pet feeder uses electricity and has a battery for backup in case of emergencies. It also includes a small alarm for when the feeder needs to be recharged. The 6.5L capacity is great for feeding your cat for up to a fortnight depending on their meal size, and comes with a blue back light panel to easily schedule your cats meals. Our favourite feature is the voice recordings – with an 8 second sound clip – its perfect for reminding your kitty that it's mealtime!
Key Features:
6.5L capacity (approximately 3kg)
Can schedule up to 4 meals per day
Comes with two dispenser size options (5g or 10g)
Each meal can be 1 to 39 portions (a maximum of 390g using the 10g dispenser, or 195g with the smaller)
Built in voice recorder and speaker to record a message to call your cat at each automated meal time
Can be powered by mains or battery
3 year warranty
6. Petkit Smart Pet Feeder for Cats
Petkit Smart Pet Feeder for Cats
Our Rating: 5/5
Check Price
Summary:
This fashionable looking feeder is one of the most scientific on the market. Utilising a never stuck self-adaption system (tested over a million times) this feeder guarantees to never allow food to get stuck during dispense, giving you peace of mind that your cat won't ever go hungry. Coming with a large capacity, an easy to use mobile app and flexible schedule options, this feeder is a great option for cat owners who are regularly away from home.
Key Features:
5.9L capacity
"Never Stuck" food will never get stuck whilst being dispensed
Double lock design to keep food fresh
Program up to 10 meals per day
Set portion sizes from 20-400g each
Works with dry food between 5-25mm in diameter
Control your cats feeding schedule from anywhere using the feeders mobile app
---
The benefits of an automatic feeder
Automatic feeders provide an easy solution to a variety of feeding problems, like:
Cats that overeat, and are at risk of obesity
Cats that require a special diet, and have to be fed at specific intervals throughout the day
Cat owners that work long, irregular hours, and can't always be home to feed their cats
Cat owners that like to travel or go out occasionally, and are not always at home at meal times
Cats that are picky, and will only eat fresh food because they expect top-quality
Owners that don't want to be woken up in the early hours by hungry cats walking on their face…
Buying Guide for Automatic Cat Feeders
Before you choose any automatic cat feeder, there are some important features you should definitely consider which will help you make the right choice for your cat. We've put together a guide for you, so you know what to look for.
Food Storage Capacity
One of the advantages of having an automatic cat feeder is to take the hassle out of having to feed your pets every day. You don't want to be constantly worried about your cat's food. It'd be pointless if you still had to fill up the food bowl daily. If you did, what would be the point of the automatic feeder?
Think about how many meals you want your feeder to hold at once. It's always important to check how much food a dispenser can hold at once. Choose an automatic feeder with a large storage capacity that can hold up to 2-3 days worth of cat food.
To work out the exact capacity you will need, weigh a normal meal for your cat on kitchen scales, multiply this weight by the number of meals your cat has each day. You will have the total weight of food required for a single day, so you can then multiply this number by the number of days you are expecting to ever be away to reach the maximum capacity you will require.
Does your cat eat wet food?
Most automatic feeders are designed to accommodate dry food only. We have used wet food in an automatic feeder before, and it quickly gets very messy, and the freshness fades pretty quickly.
If your cat will only eat wet food, make sure to check that your feeder is able to cope with it, and look for feeders that come with a cooling or ice pack system that will keep the food as fresh as possible whilst you are away. In most cases, you will need to freeze a provided ice pack that you place under the cat bowl that keeps the food cool.
Portion Control Settings
The amount of food your cat needs at a time will change as they age. You'll want to invest in a feeder that can accommodate that change.
Think about your cat's dietary needs to determine how much food they should have in one sitting. Especially if your cat is on a weight loss diet, an accurate portion is important for their health. If you're not sure, talk with your vet about what they'd recommend.
You might even want to use specific eating habits as part of your cat's training. If this is the case, make sure the automatic feeder you pick has the right features. For instance, finding a feeder with a voice recording option could help continue to train your cat to respond to your voice, even while you're away at work.
Food Size Options
All cat foods are not made the same size. And most pet owners tend to change their cat's food as it grows. A kitten will need smaller bites than a fully-grown cat.
You might want to choose an automatic cat feeder that works for both small and large food sizes. Keeping this in mind, you'll be able to use the feeder for a long time.
It's also important to measure the average size of the food your cat prefers. You'll want to make sure the machine can release food pieces that size, so it won't get jammed up – especially when you're out of the house for the day.
Pet-proof
You need to consider how pet-safe an automatic cat feeder is when making your purchase. You wouldn't want to see your precious Fluffy breaking in and devouring all the food at once.
You also wouldn't want to see your cat mess up the house during their feeding by spilling their food all over the kitchen floor. A pet-proof automatic feeder prevents this from happening. Think about the size of the bowl and how heavy or secure the feeder is, so it can't be knocked over.
Scheduling meal times
All automatic cat feeders will allow you to schedule meal times using a timer. You should consider how long you will likely leave your cat for, and whether you may need to change your cats eating schedule whilst you are away. When the weather is warm, your cat will typically eat less, so you may need to increase or decrease meal sizes whilst you are away. Generally, the only feeders that will allow you to do this are those that are connected to a mobile app, that will allow you to edit your cats eating schedule completely remotely.
Mains powered vs battery powered
Most advanced cat food dispensers are now powered using mains plugs, with backup power provided by batteries should you experience a power cut. If you plan to be out of the house for long periods of time, we would recommend finding a feeder that includes a battery backup power source to ensure your cat will always be fed whether your house is in darkness or not.
The Ease of Cleaning
You need to consider how easy it is to clean the feeder part before you choose any automatic cat feeder. The cat feeding bowl can be a breeding place for bacteria, and it demands that you wash it regularly. You need to look for an automatic cat feeder that has dishwasher-safe parts for easy cleaning.
What to Look For in an Automated Cat Feeder
You should first understand that most cat feeders are designed for single cat households or homes with no dogs. If this is your set-up, then you don't have to worry!
But if you have multiple cats and other animals at home that have access to the feeder too, it can be problematic. For people with multiple cats who want them to feed properly, look for a feeder with RFID chips that will only open for a cat with the right matching tag on its collar.
Remember that most automatic feeders are only suitable for dry foods unless they're a plate style feeder. So if your kitty prefers wet foods, think about that too. Does your pet have a particular amount of food it eats at a time? You need to choose an automatic cat feeder that will satisfy your cat's dietary and serving requirements.
Some cats need a specific size or bowl height in order to eat easily. Measure the dimensions of the container or food compartment to be sure your cat can feed easily from it before you finalise your purchase.
Lastly, if you are using an automatic feeder to feed your cat whilst you are away for a prolonged period – its best to combine it with an indoor pet camera so that you can have piece of mind that it is dispensing correctly, and that your cat is eating their food as normal.