Even distribution of pressure is one of the primary strengths of the best puppy harnesses, as opposed to concentrating around the neck as a collar would.
Using a harness for puppy training is helpful since the young dog can learn the importance of social walking skills early on, without the harshness of using a collar.
In this guide we review the best puppy harnesses in the UK and run through some of the key things you should consider when buying one.
Our Top Picks
To save you time, we have pulled out the highest rated puppy harness from this guide. You can read our full reviews further down this guide.
Best Overall Puppy Harness: Puppia Soft Harness 5/5
Close Second: Truelove Dog Puppy Harness 5/5
What To Consider When Buying a Puppy Harness
For puppy owners, finding a harness that suits your young dog's growing frame can prove challenging. Pet parents can, however, look out for features that offer safety for your puppy around people and other household pets.
To make buying the best puppy harness easier, look out for;
Adjustability: The best puppy harness should ideally allow you to adjust around your young dog's growing body. The harness needs to be snug to avoid it breaking free whilst wearing it.
Un-chewable materials: Your pup probably loves chewing on almost everything, especially if they are at the teething stages. Look for a tough durable material to avoid it biting through it.
Affordable: Your young pet will eventually outgrow their puppy harness. Select an affordable but the quality harness that's friendly to your dog's budget.
Larger size: It's essential to get your puppy's body measurements before buying a harness. You may find that your young pet is between sizes, and the best policy is to get the larger size with adjustability.
Best Puppy Harness Reviews
The best puppy harnesses will leave your young pet feeling protected as well as looking trendy on those mandatory daily walks. We've tested the top rated harnesses available in the UK to find the best picks for your puppy.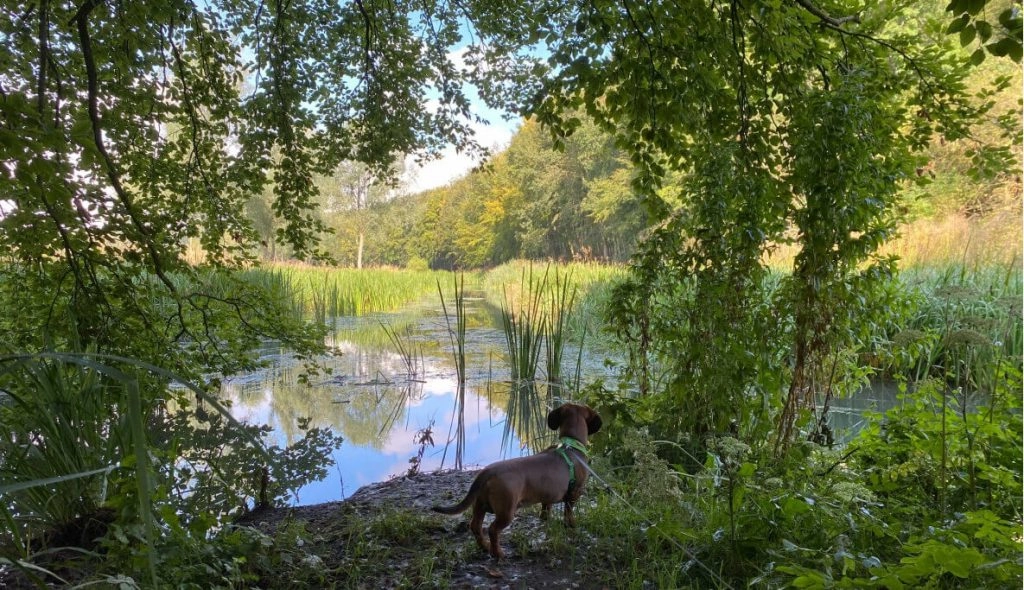 Best Overall Puppy Harness: 

Puppia Soft Harness
We love this harness by Puppia, and it comes out as the best of the bunch. The harness is extremely good quality (we've actually used a Puppia harness for over 5 years, and it still looks as good as new), and comes out as the best for preventing your puppy from escaping from the harness (one of the biggest problems we had with other harnesses).
The harness is an overhead harness, where you place it over your dogs head, and then clip it under your dogs front legs to secure it. The material is extremely durable and tough, but lovely and soft on your puppies young fur. The harness is fully adjustable (and the neck is stretchy making it easy to place over your puppies head.
Whenever this harness gets dirty (can be often in the winter!) we simply chuck it in the washing machine, and tumble dry it, leaving it looking as good as new.
To attach the lead, there is a loop on the top of the harness (located between your dogs neck and the top of its front paws) which gives you excellent control when teaching your puppy on a lead. It comes in a large number of colours (we love green as it shows up well when walking in the dark) and sizes.
Pros
Strong, durable, and soft for your puppy
A number of different colours to ensure your dog stands out on a dark evening
No-pull harness that is safe and easy to control
Multiple sizes to fit most puppies and dogs
Cons
None, we think this harness is excellent value for money & brilliant quality!
Close Second Puppy Harness: 

Truelove Dog Puppy Harness
This a fully adjustable padded chest harness for puppies that's reflective and comes in eleven bold colours. The Truelove Dog Puppy Harness is made out of a dense webbing of nylon with a scratch-resistant and durable oxford outer layer.
This lightweight harness has soft sponge padding for your pup's stomach and chest for balanced load dispersion. The extended wear Truelove Puppy Harness is comfortable and has reflective 3M trim and strips that offer perfect night-time visibility.
A handle at the back of this harness gives you better manoeuvrability and can be used to attach the safety belt when driving with your young furry friend.
Pros
Strong, durable, dense webbing material that's soft and comfortable on pups
Eleven different colours including black, blue, brown, green, grey, yellow, orange, purple and blue.
No-pull harness that is safe and easy to control
Five sizes fit any small pup or lap dog
Cons
It is slightly more expensive than other alternatives, but you get what you pay for
Best Durable Puppy Harness:

INVENHO Mesh Harness with Padded Vest for Puppy
INVENHO Mesh Harness with Padded Vest for Puppy
Our Rating: 4.5/5
Check Price
Made from strong, comfortable material, the INVENHO Mesh Harness is an all-weather walking harness for your young dog. This extra small harness is a great fit for the smallest of pups.
Its strong, durable clip snaps audibly into place, and once you attach the provided leash, you're good to go. This mesh harness features a padded vest and comes with a nylon strap and seat belt for convenience when driving.
Pros
Made from non-irritating materials for all-day wearing, the INVENHO Mesh Harness for puppies comes in a variety of sizes. These include extra small, small, and medium-size.
The length of the accompanying nylon strap is 1.2 meters, while the seat belt is 0.7 meters.
Choice of colours that suit your young pet's personality
The comfortable padded vest makes it easy for your pup to walk or run
Extra secure snap clip buckle that's easy to close or open
Cons
It can be difficult to get onto your dog at first due it needing to go over its head
Best Budget Puppy Harness:

Zunea No Pull Dog Harness and Lead Set for a Puppy
Zunea No Pull Dog Harness and Lead Set
Our Rating: 4.5/5
Check Price
This reflective puppy vest harness is made from a breathable mesh material that's comfortable on your young pet. The Zunea No Pull Dog Harness comes with an identity card and four colours including black, blue, grey and red.
With a 3M reflective lead, this no-pull padded harness is completely safe for walking your young dog at night. For easy set-up and put on/take off, the Zunea Harness comes with quick release and adjustable buckles for the neck area.
Pros
Extra small to large body size for puppies with a neck size of 17 to 20cm and a chest size of 26 to 30cm
High-quality materials including air mesh fabric that's soft for a breathable and comfortable wear
No pull vest harness that ensures that your puppy won't choke, suffocate or suffer neck strain
Reflective straps, leash and harness edges for added visibility in low light conditions
Easy to put on or take off, and comes with an anti-lost card
Lightweight at 90 grams
Cons
It can measure slightly larger than the specified measurements
The lead isn't ideal for long term use
Best Adjustable Puppy Harness:

KAIYAN Adjustable and Extendable Puppy Harness
KAIYAN Adjustable and Extendable Puppy Harness
Our Rating: 4.5/5
Check Price
This puppy walking harness features a padded mesh vest that will adjust with your young dog's growing body. The KAIYAN Retractable, Adjustable and Extendable Puppy Harness comes with a lead plus towing rope that's great for training your little friend to walk properly.
As they go from a small puppy to a medium-or-large-sized dog, this harness has adjustability and retract-ability features that grow alongside them.
With D-rings, robust back buckles, and aluminium rotating hooks, this puppy harness distributes chest and shoulder pressure evenly. This goes a long way in relieving neck strain and mitigating the chances of suffocation.
Pros
Suited to jogging, daily walking, or puppy training
Made from soft mesh and breathable fabric that's comfortable in hot weather
Adjustable around chest circumference to give young pets added comfort, especially when putting on the harness
Easy buckle adjustment that accommodates the growing size of your puppy
Stylish rope colours with well-styled and fashionable designs for that trendy puppy walking experience
Budget-friendly for a harness that's durable and stays with your pup till they're adult dogs
Cons
Weighty for very small puppies at 140 grams
Best Sports-Oriented Puppy Harness:

ThinkPet No pull Sport Dog Harness
ThinkPet No pull Sport Dog Harness
Our Rating: 4.5/5
Check Price
This is a great sports harness design that's strong and comfortable on puppies as well as larger dogs. The no pull harness distributes pressure evenly to the body to prevent choking. Made of heavy high density oxford webbing, this harness is breathable that's soft on your young pet.
Fully adjustable straps on the neck and chest allow you to create a perfect fit for your puppy. Two sturdy D-rings are positioned on the top of the harness to safely attach your lead – with the front ring best for jogging and back ring to be used for walking.
This harness comes in a large range of different sizes and colours meaning it is fully adjustable to all dogs.
Pros
9 different sizes to fit all puppies and dogs
Chest strap fully adjustable to suit any size of pup
2 D rings suitable for jogging or walking
14 different colours available
Best Lightweight Puppy Harness:

AllPetSolutions Dog Puppy Harness
AllPetSolutions Dog Puppy Harness
Our Rating: 4.5/5
Check Price
This is an adjustable and reflective vest harness that's made from lightweight fabric materials with a soft lining. The AllPetSolutions Puppy Harness offers pet visibility at all times and comes with a D-ring for easy leash attachment.
For a snug fit, this puppy harness has adjustable straps and buckles for easy closure or opening.
With its small neck circumference, the AllPetSolutions Dog Puppy Harness measures 31cm at its smallest size. The pup harness has a chest circumference of between 38 and 43 cm and is hand washable.
Pros
Super lightweight fabric that minimizes strain on pups
Soft lining offering comfortable all-day wear
Reflective piping all-round the harness for visibility in poor light conditions
Adjustable straps and quick release buckle operation for opening or closing
Hand washable
Cons
Offered in limited colour options
A Buyer's Guide For The Best Puppy Harness
Puppies are prone to lunging forward and pulling on the lead, and a harness protects them from neck or back strain. Collars have been known to choke dogs, and a harness will alleviate any potential hazards for your puppy.
Basic training to get your puppy into a harness can start when they're as young as eight weeks old. Start your puppy slowly, allowing the harness to be worn for short periods of time while indoors.
Every time you let your young dog out for a walk or a romp in the garden, make sure their harness is on. Encourage them with praise and treats, creating positive associations with the harness.
After your young dog masters walking inside the house with a harness, it's time to introduce it outdoors. Socializing a puppy around other dogs and people outside is best done after completing it's deworming and vaccinations.
Why Choose A Puppy Harness Instead Of A Collar?
When you get a puppy, one of the lifelong commitments that you agree to partake as a responsible guardian is their daily walks. Not only is walking your young pet essential for their mental and physical wellbeing, but it may also be the only time when the pup gets to explore outside of your home.
Walking puppies, in particular, is considered a complicated task and can be a bit challenging due to all of the safety factors involved. Your young dog is inexperienced and wants to take in the entire world at once, despite their strength limitations.
A harness, as opposed to a dog collar, is the safest and most comfortable piece of equipment with which to walk your pup. Significant risks like choking can be avoided when using the best puppy harnesses available instead of a traditional leash and collar.
It's been proven that too much neck pressure on your puppy will cause problems with bone structure and the trachea. Studies have also suggested that neck pressure caused by collars can be associated with eye problems like glaucoma.
Types Of Harnesses To Consider For Your Puppy
The best puppy harness will make walking or travelling with your young pet easy, while keeping them secure, with free movement and comfort.
However, when considering the puppy harness for you, you must observe their temperament and behaviour. A pup that's quickly excited and aggressive, for instance, requires a different harness option than one who is timid or prone to catching a cold.
Dog puppy harnesses fall into three categories, which include;
Front clip harnesses: these clip from the puppy's front, at the chest, and are no-pull. Your leash controls the pup from the front instead of from their back, giving you more ahead control.
Back clip harnesses: they slip to a leash from the back, ensuring that a young dog's pull won't constrict the chest or neck. Whether your puppy is a couch potato, which they rarely are, or super active, you've got control.
Front and back clip harness: both options are provided on these harnesses, providing a versatile opportunity for your growing puppy.
As your puppy grows from a small fluffy ball to a big old bruiser, their needs will continually change. The best puppy harness is one that has the flexibility of keeping up with the rapid body frame and strength increases.
Some pups are overly friendly, while others are reserved, yet you can find the best harness that suits their various capabilities, strengths, and requirements.
Conclusion
When the time comes to dive headfirst into walking or training your puppy, don't be left clueless as to which is the best harness. Follow the detailed buying guide above, as it will keep you informed and ensure that you're getting a quality product.
Make sure that the harness is neither tight nor loose around your pup's body, and you should be able to run a finger in between. The best puppy harnesses will not constrict your young dog's movements or breathing, all the while giving you full leash, or pick up and carry, control.