Clipping your cat's claws is one of those procedures that most cat lovers don't look forward to. It's a straightforward procedure, but the tough part is getting your cat to relax and stay still. Fortunately, cat nail clippers and files have simplified the art of trimming your cats claws so you can quickly do it in the comfort of your own home.
In this guide, we've tried and tested some of the different options available to you, explain what you should consider, and review the best cat nail clippers available in the UK.
Best Cat Nail Clippers
We have picked out our favourite cat nail clippers and files from this guide. You can read our full reviews further down this guide.
SHINY Cat Nail Clippers
We love the Shiny Pet Cat nail clippers – so much so that we use them on our cats. They are extremely comfortable to use and make a very clean cut on your cats nails to make the nail cutting process quick and easy. For the price and performance they are excellent value for money for both cats and kittens.
Our Rating: 5/5
Check Price
gonicc Cat & Dog Nail Trimmers
If you have a larger cat, the gonicc Cat & Dog nail trimmers could be the perfect option for you. These are a slightly larger set of clippers, but they come with excellent grip for cutting control, and super sharp blades to ensure a clean cut. We loved the safety guard on these clippers to prevent cutting too much of the cats claw and the addition of a nail file in the handle meant these ticked all of our boxes!
Our Rating: 4.5/5
Check Price
What to look for when buying cat nail clippers
As cat owners we have a duty to ensure our cats are well groomed. Cutting a cats nails can be stressful for both the owner and the cat, so we've picked out the top features you should consider to make the process as easy and painless as possible.
Are the blades sharp and made of stainless steel to ensure a clean and quick cut
Do the clippers have sufficient grip to ensure you maintain control throughout
Do the blades have a small window to ensure you can see the cats claw throughout the process?
Are the clippers easy to use and designed for cats?
Cat Nail Clipper Reviews
We have been through the top cat nail clippers available in the UK to find the best choice for your cat. We have not included any cat nail grinders as we are yet to find the perfect cat nail grinder that won't scare our cats.
1. Shiny Cat Nail Clippers
Summary
If you've been hesitant in the past about cutting your own cats nails due to safety or stress reasons, the Shiny Cat nail clippers will eliminate that concern. The scissor design coupled with a window opening in the stainless steel blades ensures you maintain full control whilst cutting your cats claws. We loved using these clippers on our cats as you felt fully in control, and found the scissor action preferential to the others used. They were small enough to cut kitten claws, but big enough to trim most medium to large cats. The blades are sharp, and left a very clean cut.
Key Features
A windowed opening in the blade ensures you can always see the nail whilst cutting
Ergonomic grip to ensure full control whilst cutting
Sharp stainless steel blade to ensure a clean nail cut
The perfect size for cutting a cats and other small animal nails
Lifetime money back guarantee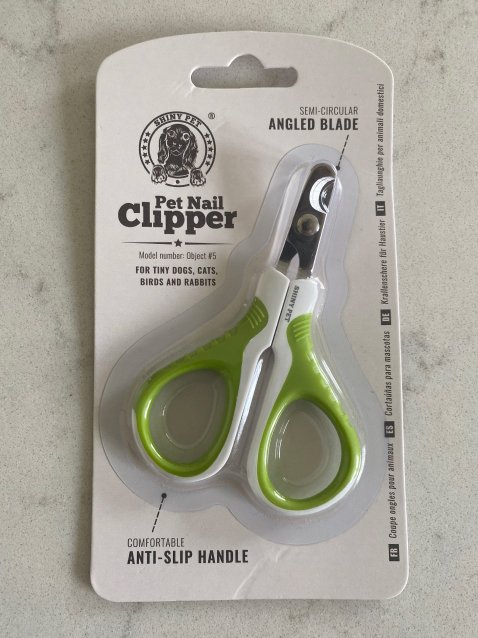 2. gonicc Cat & Dog Nail Trimmers
gonicc Cat & Dog Nail Trimmers
Our Rating: 4.5/5
Check Price
Summary
The gonicc cat and dog nail trimmers are extremely high quality and come with a safety blade to prevent you removing too much of the nail during trimming. The added nail file (inserted into the bottom of the left handle in the image above) makes it easy to smooth off your cats nails after clipping. The downside of these cutters is their size, which makes them only suitable for larger cats and cats with thicker nails. The handles are fairly easy to squeeze and it felt like you had more control with these compared to other trimmers we reviewed.
Key Features
Comes with a safety stop blade
Can be locked and unlocked to protect children
Includes a hidden nail file to smooth off nails after cutting
Non slip handles and lightweight for ease of use
Window blades are slightly larger than other models making them ideal for large cats
3. PetPäl Professional Nail Clippers for Cats
PetPäl Professional Nail Clippers for Cats
Our Rating: 4.5/5
Check Price
Summary
Another great set of nail clippers for kittens and cats. The plier design and added ridges on the handles ensure you're able to maintain a firm grip and control during cutting. We like the added safety protective guard which helps to protect you from cutting too much of your cats nail at once. When using them, these had the stiffest handles to squeeze, which left a very clean cut, but were slightly more difficult to cut once you had the nail in place. A very high quality cut was left, and the blades were extremely sharp.
Key Features
Optimised cutting angle for a clean cut
Small window in the blades to ensure you can see the claw whilst cutting
Ergonomically shaped grip for comfort and grip
Safety protective guard to prevent you from cutting your cats claws too short
Money back satisfaction guarantee
4. OneCut Pet Nail Clippers
Summary
The OneCut pet nail clippers are the best budget option on the market. Using a simple scissor design and providing grip for both right and left handed users these clippers offer you full control whilst cutting your cats claws. The clippers have a high quality stainless steel blade that is suitable for both cats and kittens. These clippers felt slightly weaker than others on this list, but were considerably cheaper.
Key Features
High quality stainless steel blade with a small window to maintain sight of the nail at all times.
Ideal for kittens and cats
Non slip grip to ensure control whilst cutting
Small and easy to handle
100% satisfaction guaranteed
---
Why do you need to trim your cats claws?
Cat claws need to be clipped for several reasons:
To prevent broken nails – when cat claws are left to grow too long, they may break when the cat is playing, and this can be a harrowing experience for any cat.
Comfort – Long claws are uncomfortable for your cat to walk in since they tend to curl inwardly.
To prevent damage – Cats love to scratch, and the long claws will damage your seats and carpet,
They can be dangerous – Long cat claws are dangerous to kids, and the last thing you want is your kids to end up with scratch marks and injuries from playing with the cats.
Tips for cutting your cats nails
Clipping your cat's nails can be an exciting time to bond with your cat and it all depends on how well you prepare your cat for the clipping process. It is advisable to relax your cat first and make sure they are as comfortable as possible. Never try to clip your cat's nails when they are agitated or anxious, it will only make it worse.
Make it a habit to regularly clip your cat's nails. It will familiarise them with the process so that they won't freak out at all. If you have kittens, take time to clip their nails too. Don't wait until they are large cats so you can start cutting their claws.
Read all the instructions on how to use the nail clippers. You need to have a rough idea of how the clipper works even before using it on your cat. Make sure the blades are sharp to allow you to clip the nails quickly and the handles should be firm. If something does not feel right, don't go ahead with the clipping process.
You would rather buy another clipper that you are comfortable using. Once you master how the simple nail tool works, it will be a lot easier to position the blades at the right angle, and that will facilitate a smooth nail clipping process.
Training your cat to be relaxed during claw trimming
When you are introducing your cat to having their nails trimmed it is best to approach it with praise and affection and try to avoid stress and strain.
Using the following tips helped us to train our cats to remain still during claw clipping:
Introduce claw cutting when your kitten or cat is as young as possible
Be gentle and introduce claw clipping when your cat is relaxed (we find it best when our cat snuggles up on our lap)
Make sure not to take too much of the nail off – nail clipping is generally pain free for your cat as long as you are only removing the tip of the claw
Use a sharp set of nail clippers to get a clean cut
Be comfortable holding your cat and clippers at the same time (or make sure that you have a helper to keep hold of your cat)
You can read our full guide on how to trim your cats claws here.