Getting your dog the best food in town won't do if you don't get a bowl to match. Dogs come in all shapes and sizes, and dog bowls are no different. Whether your dog is a messy eater, or is aging and needs a raised bowl, we've got you covered. We've researched and reviewed the best out there to find the most suitable dog bowls for small, medium and large dogs.
Our Top Picks
We've pulled out our top dog bowls from this guide for easy reading. You can read the full reviews, including our ratings, further down the page.
Overall best dog bowl: SUPERDESIGN Mess Free 15° Slanted Bowl for Dogs 5/5
Best Slow Feeder Dog Bowl: Outward Hound Fun Feeder Slow Dog Bowl 4.5/5
Best Budget Dog Bowl: Amazon Basics Stainless Steel Dog Bowl 4.5/5
What To Consider When Buying Dog Bowls
Dog bowls come in all sorts of shapes, sizes, colours, and materials. While it could be a matter of preference what dog bowl you settle on, you should not ignore some factors as you shop. The top features are:
Durability: This feature tops the list because dog bowls are prone to wear and tear. Choose a product made from durable material that will stand the test of time and be nibbled on, dropped, and so on.
Ease of Cleaning: Let's face it, no one enjoys doing the dishes, much less your dog's dishes. Look for a bowl made of a material that is easy to clean – and preferably dishwasher safe.
Design: Does your dog get quite excited whilst eating? You'll need to consider a non slip base or a weighted bowl to make sure they don't slide them around the room!
Functionality: Consider what your dog will use the bowl for. Is it for drinking or food? What is the size of your dog in relation to the bowl and vice versa? All these factors come into play as you shop for dog bowls.
Your dogs age: As your dog gets older, it may need a raised bowl to ease any back and hip pain. Whereas for puppies it best to look for a lower bowl, with a non slip base as they can get pretty excited at meal times!
Best Dog Bowl Reviews
We've researched over 40 dog bowls and reviewed and tested the highest rated to come up with our favourite dog bowls. All bowls are listed in order of the highest rating to lowest.
Full disclosure – we own and use the Superdesign mess free slanted dog bowl and we think it is great which is why it has come out on top of our ratings.
1. SUPERDESIGN Mess Free 15° Slanted Bowl for Dogs
This raised dog bowl has a built in slant that makes it very easy for your dog to reach all of the food in their bowl. The design of the bowl helps to keep the bowl still (and require less effort to eat the food) which helps to reduce indigestion as it means your dog consumes more food, rather than reaching for the food in bowl and gulping additional air. The bowl looks great, and is of excellent quality, with a slightly weighted base.
The metal bowl detaches from the base, making it very easy to fill and clean (both parts are dishwasher safe). Our dogs (both dachshunds) get on really well with this bowl (the raised element makes it excellent for their backs, and the non slip base keeps the bowl still). The bowl comes in 11 different colours, and 4 different sizes ranging from 150ml up to 600ml.
What we like
The bowl has a non-slip, non-skid ring at the base
Easy to clean and is dishwasher safe
The high edges make it resistant to spills
Choose from four capacity sizes (150ml, 160ml, 300ml, 600ml)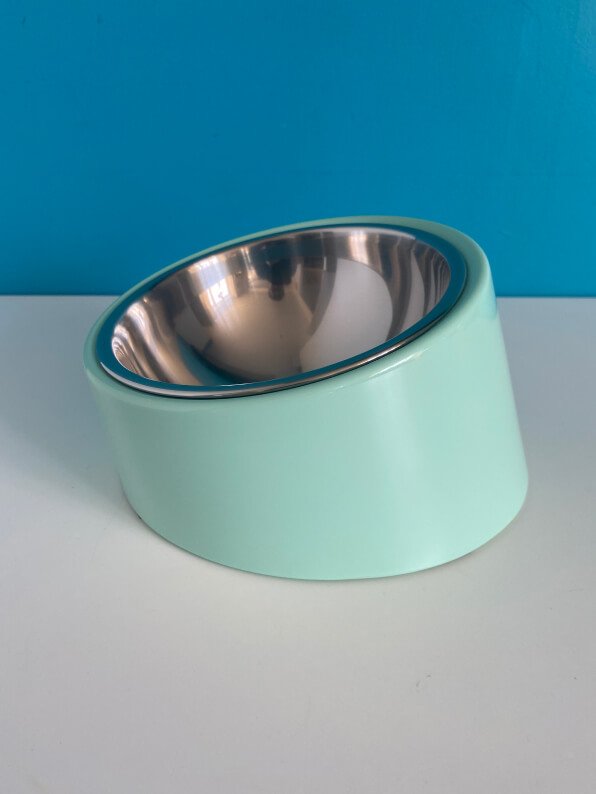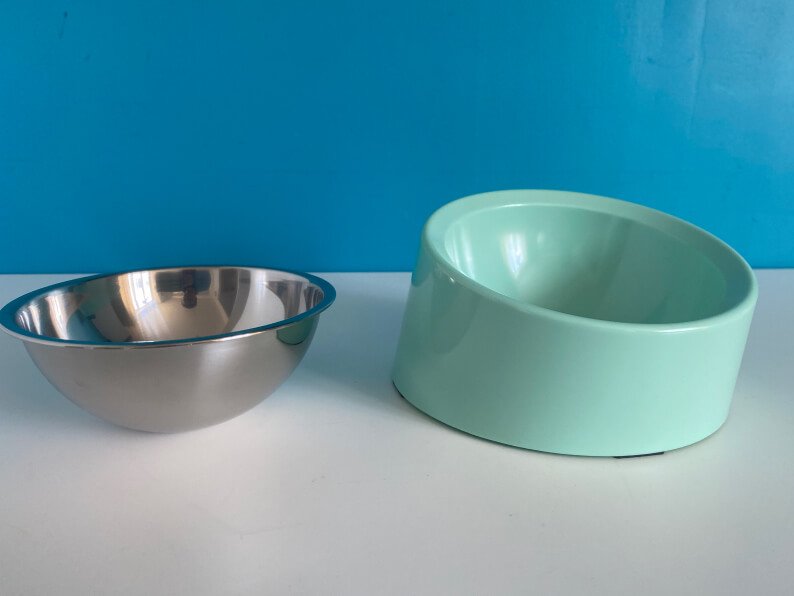 2. Amazon Basics Stainless Steel Dog Bowl
This dog bowl is a pretty basic bowl but it does its job well without any extras. It is made from stainless steel that is both durable and easy to clean. The bowl comes with a black rubber strip that helps stop the bowl from slipping (works well on hard floors like tiles and laminate). This bowl can be used for both food and water.
The bowl is fairly light, so if your dog is a messy eater (or vigorous with their bowl) you may need to go for a weightier alternative. For the money, these bowls are excellent value for money and you get 2 in a pack to cover both your
What we like
The bowl is made of durable and high-quality stainless steel.
The bowl has a rubber base to prevent it from moving around or scratching your floors.
Multi-functional for both water and food.
Dishwasher safe.
3. Outward Hound Fun Feeder Slow Feeding Bowl
If your dog is eating their dinner too quickly, this is the perfect bowl to slow them down! Dogs can cause themselves all sorts of problems by eating too quickly, but using a slow feeder reduces how easily and quickly they can grab food, slowing them down by up to 10 times a normal bowl.
We love the quality of this bowl, and the clever design means the food is ultimately all eaten, but at a slower pace. Slow feeders are normally quite difficult to clean, but this one is dishwasher safe to help save you the hassle. The bowl has a non slip base and is weighted, making it a great choice if your dog is a little over enthusiastic while eating.
What we like
The bowl is made of durable and high-quality BPA safe plastic
Helps your dog with proper digestion
Slows down your dogs eating by up to 10 times
Dishwasher safe
4. Dogit 2-in-1 Elevated Dish/Bowl
A classy-looking 2 in 1 dog bowl with an elevated design serves dogs by providing them with a more comfortable eating or drinking position. This elevated dog bowl is great if your pet has painful joints or digestive issues and may find a high feeding or drinking position easier.
We love the quality of this bowl, and it is significantly higher than the other competition making it a great choice for larger dogs.
What we like
Elevated for a more comfortable feeding position.
The bowl has a sleek design made of melamine.
Made of durable stainless steel.
Has rubber feet to prevent slipping.
Easy to clean and is dishwasher safe.
Great for both small and large dogs.
5. Mason Cash Lettered Dog Bowl
A heavy and durable dog bowl crafted from heavy-duty and quality stoneware, this item has been around for decades and is approved by the RSPCA. It is pretty solid and is immune to tipping, thus no spills. Since it is made from very durable and thick material, it is resistant to chipping occasioned by biting or picking up.
We love the look and weight of these bowls, but our dogs are little too enthusiastic and often end up pushing these around as they don't have a non slip base.
What we like
This dog bowl is RSPCA approved.
Durable and long-lasting due to its build made of heavy-duty stoneware.
It is spill-safe thanks to the weight of the material it is made from.
This product is easy to keep clean since it is dishwasher safe.
Best for bigger dog breeds thanks to the capacity.
It can chip easily if not handled with care.
6. Road Refresher Prestige Non-Spill Pet Water Bowl
If you are looking for a non-spill, large water bowl, this bowl is a great choice. Made from toughened polypropylene, which is heat resistant, this bowl is great for a messy drinker. It eliminates spills and reduces pet slobber thanks to its slanting walls.
What we like
It is made from toughened polypropylene which is highly durable and heat resistant.
The bowl has a large capacity to hold liquids.
It is a spill-proof feature of slanting walls that reduces pet saliva on the floor.
Easy to carry around.
The bowl has high ratings online.
7. Dogit Go-Slow Anti-Gulp Dog Bowl
As the name suggests, this is a slow feeder dog bowl that forces dogs that would naturally gulp down their food to eat slower. It also works to slow down the intake of water, which, if gulped down, can cause bloating or vomiting.
What we like
It has compartments that work great to train dogs to eat or drink slowly.
It prevents indigestion and bloating by forcing your dog to eat slowly.
It can hold a more considerable amount of food thanks to its large capacity.
It is not super durable since it can chip if dropped or hit against a surface.
It does not have a rubber base which could make it move around if your dog is an enthusiastic feeder.
Benefits of Dog Bowls
The benefits of buying a dog bowl for your beloved pet are many and varied depending on the product you settle on. However, these are some of the main benefits that both you and your doggo will reap from having a good dog bowl.
Good posture while feeding is one of the top benefits. Of course, this will vary from one dog to another. Some dog bowls are designed to help arthritic dogs, and those with digestive issues enjoy a more comfortable eating position.
Slowing down a fast eater is another benefit you will get from many listed dog bowls. Many dog breeds are known to gulp their food and water down, causing them to either vomit or get bloated. Slow feeder dog bowls will help you train your dog to eat slowly, thanks to their design.
It makes feeding a cleaner process. Putting kibble in a bowl makes cleaning up later very easy. Additionally, your house will also stay clean because you will have a designated spot to feed your dog from.
A clean bowl prevents disease. A dog bowl is easy to keep clean; therefore, you can keep your dog healthy since they will be eating out of a clean surface each time you feed them.
A dog bowl helps you to keep track of how much your dog eats in a day. Not only is this good for their health, but your pocket too. You can be able to ration the kibble in a standard way each time you feed your pet.
Best Dog Bowl Buyers Guide
Here are some things that should guide you as you shop around for the best dog bowl in the market.
Your Dog's Needs
What are the specific needs of your canine friend? Are they a fast eater that needs to be slowed down? Do they have a medical condition that requires a special kind of feeding bowl? These questions should guide you to select a dog bowl that will offer your dog's feeding needs the best service.
The Size of Your Dog
A big dog will require a big bowl and vice versa. Keep the size of your dog in mind as you look at the options available for you. A bowl that is the wrong size could result in an underfed or overfed dog.
Your Budget
Dog bowls range from budget-friendly to more indulgent options. Consider how much you are willing to spend on this essential item and stick to your budget, no matter how enticing the possibilities are.
The Purpose of the Bowl
Are you looking for a drinking bowl or a feeding bowl? This is important to keep in mind because a drinking bowl would naturally require it to be deeper to prevent any spills, and you would want to avoid any bowls with lids, which would deter your pup from staying hydrated.
Anti-slip and Anti-spill Qualities
Dogs are naturally sloppy eaters and drinkers. You want to settle on a bowl that will allow the least amount of mess to clean up after. Look out for bowls that have a proven guarantee against spilling and slipping in their features. Such features will include high and slanting sides and an anti-slip rubber ring or feet on the bowl's base.
The Durability of the Bowl
Look out for bowls that are crafted with durable materials such as stainless steel or tempered plastic. Choose materials that are rust-proof, chip-proof, and long-lasting.